2002
October 11 - 14, 2002
Evelyn Case travels to Toronto, Canada, to attend an event for the Association in Defense of the Wrongly Convicted (now called Innocence Canada) and meet Rubin "Hurricane" Carter, whose years of wrongful imprisonment inspired the powerful Denzel Washington film The Hurricane. The outpouring of support, and the personal connections made, boost everyone's spirits for our uphill journey towards justice for Byron.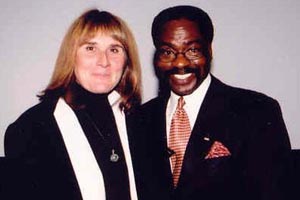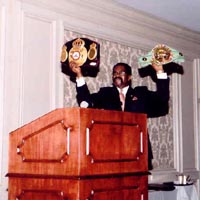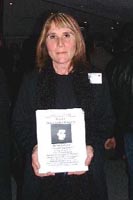 July 3, 2002
Notice of Appeal is the first step in the potentially long process of overturning a conviction in Missouri. /as of today, Byron's has been filed.
June 28, 2002
At today's hearing, Byron receives the sentences we knew he would - life without the possibility of parole, plus life, to be served concurrently - but knowing hasn't prepared us for the emotional blow of watching our beloved friend, nephew, godson, and son, Byron Case, led away in handcuffs, shackles, and chains beyond any consoling touch or word we might otherwise give him.
May 2, 2002
The lawyers rest their cases and the jurors go to deliberate. It takes only three and a half hours' wait for Byron to be found guilty of first-degree murder and armed criminal action. His family and friends are shocked beyond words, to see how horrrifyingly our system of so-called justice can go wrong.
Visiting Byron in the Jackson County Detention Center, afterwards, we are sickened to think what the near future may hold, for us and for him, but with truth on our side we can be sure this travesty will eventually be undone.
Free Byron Case!
May 2, 2002
Fourth and last day of trial. Byron is found guilty of first-degree murder and armed criminal action.
May 1, 2002
Third day of trial.
April 30, 2002
Second day of trial.
April 29, 2002
First day of trial.
April 26, 2002
Voir dire (jury selection) held.
April 25, 2002
Second pretrial hearing is held. Judge Charles Atwell rules on what evidence will be permitted during trial.
April 19, 2002
Pretrial hearing is held to discuss evidence and each party's approximate plan for trial.