UPDATES
2021 | 2020 | 2019 | 2018 | 2017 | 2016 | 2015 | 2014 | 2013 | 2012 | 2011 | 2010 | 2009 | 2008 | 2007 | 2006 | 2005 | 2004 | 2003 | 2002 | 2001
January 8, 2021
A slideshow of the Jackson County Sheriff's Department investigation of Anastasia's death, and how Byron found himself wrapped up in it, is now available for sharing.
View this short presentation in Adobe Acrobat format now
, then share the link and your thoughts about Byron's wrongful conviction on your social media!
August 14, 2020
FBC begins accepting donations via the popular free service Venmo.
July 15, 2020
Evelyn Case appears at a demonstration in front of the Douglas County Courthouse in Lawrence, Kansas. The event is a follow-up to last month's demonstration in Missouri, demanding prosecutorial accountability and disciplinary action against former prosecutor Amy McGowan.
June 9, 2020
Demonstrators gather in downtown Kansas City, Missouri, demanding prosecutor accountability in Jackson County. Their particular focus is disgraced ex-prosecutor Amy McGowan, whose manipulation of evidence led to the wrongful convictions of multiple innocent people, is currently under investigation (File #19-1578) by the Missouri Supreme Court's Office of Chief Disciplinary Counsel, as well as in Kansas. It was Ms. McGowan who secretly arranged Kelly Moffett's fraudulent testimony against Byron, hence his supporters' appearance at today's demonstration.
April 19, 2019
An attorney from a Kansas City law firm visits ERDCC and signs an agreement to represent Byron in his exoneration efforts. For strategic legal reasons, information about the arrangement is being kept private for now, but Byron feels good about his new lawyers and calls this development "really encouraging."
November 15, 2018
The prisoners at ERDCC are given tablet computers provided by JPay, the service contracted to provide money transfers to Missouri prisoners. The DOC now has an exclusive arrangement with JPay to offer secure e-mail service and digital music sales to those imprisoned in this state.
For Byron this means increased freedom and speed of communication. As a lover of music, he's also enthusiastic about the extra choices this brings.
June 1, 2018
Eric Greitens resigns from office early without responding to Byron's pardon application. The choice now falls to Missouri's former Lt. Gov. Mike Parson, a former police officer and the third governor in a position to grant or deny Byron freedom. Will he be the one to finally answer?
May 15, 2018
In the aftermath of a riot at Crossroads that occurred three days ago, the Department of Corrections transfers more than 100 uninvolved prisoners out of the facility. Byron is awakened at 4:30 a.m. and moved to Eastern Reception, Diagnostic, and Correctional Center in Bonne Terre, Missouri, more than 300 miles away. The transfer process makes for one hellish day, but because Byron was a resident of Crossroads' good-conduct wing for years, administrators shortlist him for ERDCC's honor dorm.
January 2, 2018
A well-researched Byron Case Wikipedia article is now active, focused mainly on his writing and publication history.
October 23, 2017
On the 20th anniversary of Anastasia's death, KCTV 5 interviews supporter Ben Thomas about the case and how others are urging Gov. Eric Greitens to get involved and pardon Byron.
Two supporters and Byron's mother also sit down with Gov. Greitens's legal counsel on clemencies, in Jefferson City, to present new evidence and introduce Byron's application for pardon to the new administration.
Evelyn Case provides the personal letter Byron wrote to Gov. Greitens and copies of The Pariah's Syntax: Notes from an Innocent Man for Greitens and his staff. Afterward, author J. Bennett Allen presents a concise but comprehensive PowerPoint slideshow.
October 19, 2017
This billboard went up today along a busy Kansas City stretch of interstate. We hope it sparks public concern about Byron's wrongful conviction!

October 16, 2017
Beginning today, the Free Byron Case Twitter feed and FBC Facebook page post a minute-by-minute real-time recap of the events that set this case in motion, using the #20yrsago tag.
June 7, 2017
A technical dispute over their attorney-client agreement leads Byron to terminate Cynthia Short's representation. He's once again fighting to prove his innocence without professional legal assistance.
March 1, 2017
Renowned forensic linguist, Dr. Robert A. Leonard of Hofstra University, has an article published in the Hofstra Law Review entitled Forensic Linguistics: Applying the Science of Linguistics to Issues of the Law. Three pages of this article are devoted to Byron's case.
January 9, 2017
Governor Jay Nixon's last day in office passes with a deafening silence as he leaves all pending clemency petitions open and unanswered to roll over to the next administration. Byron's is one of them.
August 24, 2016
The third episode of MTV's new investigative series, Unlocking The Truth, begins its in-depth look at the circumstances surrounding Anastasia WitbolsFueugen's death.
June 11, 2016
"Singing to Free Byron Case"
A lovers' suicide pact
Turned secrets to brutal fact
Left a puzzle of a fatal game
Wonder how there could be someone else to blame
Now my friend at his window
The past twenty years in sight
Sees a night on a cold autumn Wednesday
When his friends gave up life
Then a girl with her problems
She blamed them on my friend
Said seeing a murder had caused them
And confessing could make those problems end
And though all of her details were wrong
Sworn to her vengeful song
Got back in her family's good grace
Left us singing to free Byron Case
His friends dead and gone
Byron was just eighteen
Helped police, faced his grief
He moved on, conscience clean
The opposite side of the state
The fragile state
Of his ex when he severed ties
Self-destructive sex, drugs, and lies
She was that girl with the problems
Sworn to her vengeful song
Look injustice face to face
Start singing to free Byron Case
A trial for murder, with no evidence
Byron got two life sentences
That made no sense
And you'd cry if you'd seen him
Byron in shackles and chains
And now you'd look in amazement
At how he stays sane
He's a writer and thinker
Freedom left to gain
But with truth and friends on his side
Even if we're standing in the rain
And though all of her details were wrong
Sworn to her vengeful song
Because the jury bought her poker face
They left us singing to free Byron Case
The fifteenth anniversary of Byron's ordeal prompts an outpouring of love and support, but one expression of support was unique: "Singing to Free Byron Case," written and performed by Mike Myers, a Kansas City artist and musician.
November 23, 2015
Today, Byron's birthday, this three-minute video of Evelyn Case recorded and edited by Metaphor Media, with music by Kansas City's Namelessnumberheadman goes up on YouTube.
November 13, 2015
After months reviewing the case, Cynthia Short, an attorney with the McCallister Law Firm of Kansas City, signs on as Byron's legal counsel. By joining us, Ms. Short reaffirms our belief that truth will come to light, that Byron will come home, and that peace will come to the minds and hearts of everyone affected by this case's long string of tragedies.
June 22, 2015
Signs reading "FREE BYRON CASE" spring up outside the Jackson County Courthouse and Prosecutors Office in downtown Kansas City. Demonstrators gather to speak out against the county's record of injustice resulting from overzealous, unethical prosecutions. You can view Fox 4's coverage of the event here.
February 11, 2015
John Yohe posts a long review on comicsbulletin.com about Byron's webcomic, Writer's Cramp, praising how Byron "responds to his situation in a creative way." Yohe writes that, "as a former metalhead who wore lots of black and dated a kinda crazy drug-using girlfriend [...] this case kinda hits home."
January 6, 2015
Byron's wrongful conviction is number two on the list of Slate's picks in "Serial's Next Case: Five Crimes the Hit Podcast Should Explore in a Future Season."
October 26, 2014
On the Case with Paula Zahn on the Investigation Discovery Channel airs a show about Anastasia's murder. Byron's representatives and supporters were not contacted to participate in or contribute.
September 23, 2014
Evelyn Case appears on blogtalkradio's "Injustice Anywhere" to discuss the details of Byron's case, along with John Bennett Allen, author of The Skeptical Juror and the Trial of Byron Case.
July 19, 2014
"Every Woman" on KKFI 90.1 FM features a half-hour interview with Evelyn Case. The conversation covers Byron's book and a summary of the latest efforts by the FBC campaign.
April 7, 2014
Evelyn Case is interviewed by Bev Livingston and Trent Hudson on KGGN 890 AM's MISD (Mothers of Incarcerated Sons and Daughters) Radio Broadcast, and by Melvin Merritt on KKFI 90.1 FM's "Jaws of Justice."
April 1, 2014
A supporter in Michigan spends the afternoon distributing more than 400 "Free Byron Case" flyers to the crowd at a civil rights rally in Ann Arbor.
January 2, 2014
"Free Byron Case," an article by columnist Chuck Tackett is published in KC Exposures magazine.
December 13, 2013
The Case page is updated, with numerous reports from the Jackson County Sheriff's Department.
December 12, 2013
Byron appears on "The Intended Life" with host Samuel House. Their conversation ranges from the subject of Byron's book to creativity behind bars. Byron even does a reading of his essay "Hush."
November 21, 2013
Free Byron Case now has a presence on Instagram.
November 20, 2013
For his second appearance on the "John Talk Radio" podcast, Byron discusses the process of blogging without computer access and how The Pariah's Syntax: Notes from an Innocent Man came together.
September 17, 2013
Byron's first book, The Pariah's Syntax: Notes from an Innocent Man, is published. The 172-page paperback is a collection of personal essays and poems that Byron has written since his imprisonment, and 100% of the royalties from its sale benefit the FBC campaign. Click here to get your copy of this affecting, lyrical, even funny collection and support a good cause.
June 27, 2013
An afternoon in the park for Byron, for justice. Some hometown supporters spend a few hours of their Sunday at Kansas City's Mill Creek Park, displaying "FREE BYRON CASE" signs and talking about Byron's wrongful conviction with passersby. Watch the one-minute YouTube video here.
April 4, 2013
Nancy Petro (contributing editor to the "Wrongful Convictions Blog") and supporter Janette Mochnacz have a Twitter chat with the founder of defrostingcoldcases.com, addressing Byron's case
March 23, 2013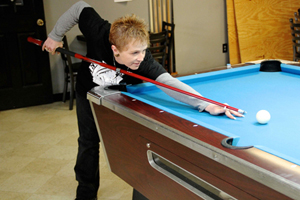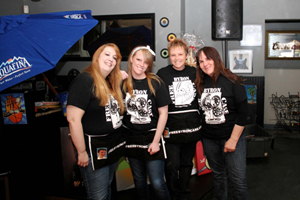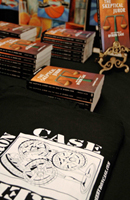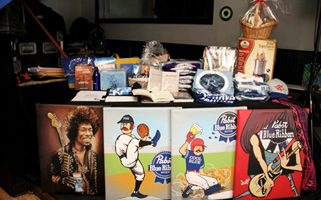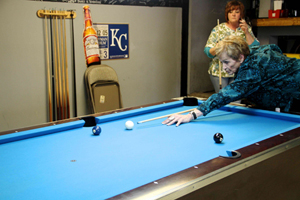 FBC holds the Break for Justice Pool Tournament and Fundraiser at Larry's Getaway in Blue Springs, Missouri. It's a fun afternoon of showing off pool-table skills, indulging in home-baked treats, testing luck in prize raffles, and, most importantly, increasing awareness of Byron's circumstances.
For their support in making Break For Justice happen, we thank the following people and local businesses:
Larry's Getaway
The Kansas City Royals
Bella Napoli
Soul Fire Tattoo
redbatdesign
Davy Rothbart, author
Javier Gonzales, caricature artist
March 20, 2013
Traci Williams and Valarie Vogel appear on KKFI's "Wednesday Midday Medley." Thanks to Mark Manning, host of the show, for offering FBC the opportunity to speak to the greater Kansas City area about our cause!
March 14, 2013
KCXL radio's Darren Smith invites active FBC campaigners Traci Williams and Valarie Vogel onto his morning talk show, "Junk in My Trunk," to discuss Byron's case, the campaign, and our upcoming "Break for Justice" fundraiser.
February 9, 2013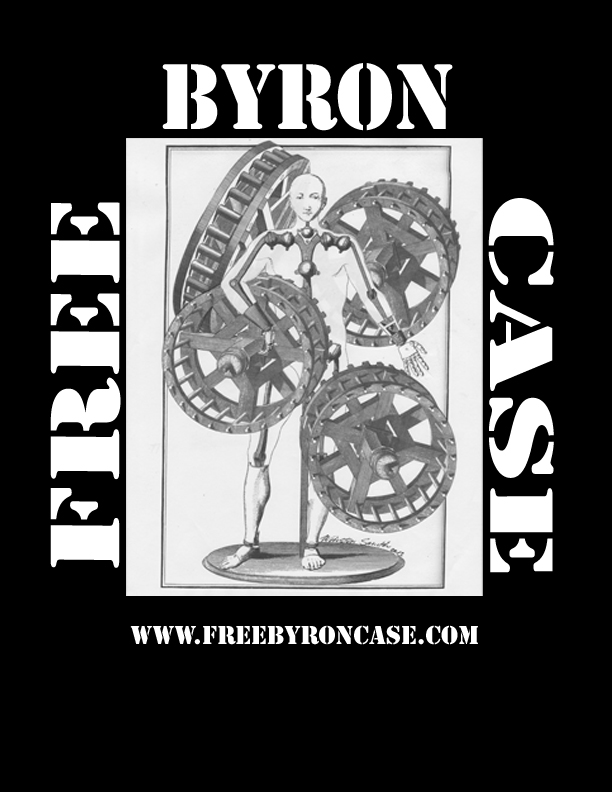 Designed by renowed collage artist Winston Smith, "FREE BYRON CASE" T-shirts go on sale. Smith's surreal covers for music acts like the Dead Kennedys, Jello Biafra, and Ben Harper & Relentless Seven may be what he's best known for, but his work also exhibits in galleries internationally. He happens to be one of Byron's favorite contemporary artists so of course Byron was thrilled by Smith's generous donation of artwork to our cause.
February 5-7, 2013
Accepting an invitation to an event organized by Bill Windsor, for his Lawless America film project, Evelyn Case travels to Washington, D.C., where she delivers congressional testimony about Byron's wrongful conviction and experiences within the legal system. She and Byron's uncle, David Cummings, meet with U.S. Senator Claire McCaskill, of Missouri, to discuss the political aspects of FBC's work toward getting Byron pardoned by Governor Nixon.
November 21, 2012
Damien Echols tweets a FreeByronCase.com link to his tens of thousands of followers. Thank you so much, Damien! All of us in the campaign to free Byron are grateful for your support (especially Byron himself, who is a longtime believer inthe innocence of the West Memphis Three).
November 6 2012
A full 20% of the crowd at Missouri Governor Jay Nixon's Election Day rally in Kansas City wear "Free Byron Case" shirts and carry signs, urging the governor to grant Byron a pardon. Evelyn Case is present and actually shakes the governor's hand, looks him in the eye, and introduces herself as "the mother of Byron Case." It's an inspiring spur-of-the-moment turnout by Byron's hometown supporters, as well as a precious, rare opportunity to make ourselves known to the state's highest officeholder.
September 4, 2012
Davy Rothbart, creator of FOUND Magazine, contributor to National Public Radio's This American Life, and author of The Lone Surfer of Montana, Kansas, publishes his first book of personal essays, My Heart Is an Idiot: Essays. In it, he writes with his typical mix of humor and heart — about picking up hitchhikers, about searching for the love of his life, about his outrageous adventures on the road as he crisscrosses America. One of the essays in this book (the one the New Yorker magazine called the book's strongest) tells of how Davy learned of Byron's case, and the friendship that developed between them as Davy put his journalistic skills toward finding out the truth.
August 4, 2012
Because an issue with the prison's phone system kept Byron from his scheduled interview, Evelyn Case filled in as Vince Hill's guest on "The Other Side of Justice."
May 30, 2012
Byron's hour-long interview on John Darlington's "John Talk Radio" podcast covers the topics of Byron's writing projects, the Skeptical Juror book, and the FBC campaign's current focus.
March 21, 2012
Byron's blog, The Pariah's Syntax, can now be found at www.pariahblog.com.
January, 2012
Byron's first published account of his experience at trial, "The Verdict," appears in the bestselling Harper Perennial anthology The Moment.
October 2, 2011
The Skeptical Juror, J. Bennett Allen, submits a detailed letter of support for Byron's pardon application to Missouri's Office of the Governor. In it, Allen discusses the forensic and testimonial facts that establish Anastasia WitbolsFeugen's time of death and argues that they collectively prove Kelly Moffett's story of the murder incontrovertibly false. Read the letter here.
August 18, 2011
Byron files his application for pardon by Gov. Jay Nixon, a forty-one-page argument for his innocence, plus these eight appendices:
April 5, 2011
The Free Byron Case page on Facebook goes live.
March 28, 2011
Johnson County Community College assistant professor Ken Sissom invites Evelyn Case to speak at his Wrongful Convictions Class at the Police Academy.
November 15, 2010
The Clerk of the Court issues a denial of Byron's motion. The Supreme Court's refusal to hear the case is not unsual and has no bearing on its factual or legal merits.
November 2010
Another FBC ad appears in FOUND Magazine, this one with a lovely smiling picture of Byron's recent visit with FOUND's Sarah Locke. Thanks again to the generous hearts at FOUND.
October 13, 2010
Byron files a motion for rehearing, imploring the U.S. Supreme Court to give his petition its due consideration.
October 4, 2010
On the very first day of its new session, the Supreme Court issues a denial of Byron's petition for a Writ of Certiorari. Given the content of the petition and the time taken by the Court to deny it, it clearly was one of the 99% of petitions that are denied without being read or considered. This is justice in America: a lottery ticket.
July 29, 2010
The Office of the Missouri Attorney General files a waiver with the Supreme Court, declining to respond to Byron's petition. If the Court decides to hear the case, Assistant Attorney General Andrew Hassell will still argue against Byron's claims; waiving Missouri's response now does not indicate the State's indifference to the matter.
July 9, 2010
Byron Case v. Larry Denny, Warden is docketed as United States Supreme Court case number 10-5322.
July 1, 2010
Byron files his petition for a Writ of Certiorari from the U.S. Supreme Court. In it, he presents the court four questions, essentially: whether the Eighth Circuit's judgement to deny him a Certificate of Appealability is in conflict with existing precedent, since the so-called "tacit admission rule" was improperly applied; whether the Eighth Circuit erred in denying Byron's Certificate of Appealability, based on the violation of his Fifth Ammendment rights when his silence was framed as evidence of guilt; whether the split amongst federal circuit courts on the issue of tacit admission can be allowed to stand; and whether using one's pre-arrest silence as evidence of that person's guilt is indeed unconstitutional. The petition runs to twenty pages.
April 6, 2010
The Eighth Circuit denies Byron's request for a rehearing. His available post-conviction remedies at the state level, procedurally speaking, are now used up. The final remaining procedural option lies in the Supreme Court of the United States. Fortunately, even if Byron's petition isn't granted, his "actual innocence" claim under Missouri's Court Rule 91 remains an option, as does an application for pardon by the governor.
March 5, 2010
Byron files his pro se Petition for Rehearing with the Eighth Circuit Court of Appeals, challenging the Court on its obvious failure to comply with the standard of review ("obvious" in that there is no way the Court could have made the required thorough review of the file, given the file's size and the short amount of time the Court took to deny him a Certificate of Appealability).
February 26, 2010
Byron grants his first interview in eight years, appearing live on air with his mother, to discuss his case, the Skeptical Jurorbook, the law, and the overall experience of imprisonment. The invitation to appear was from KKFI's Sharon Lockhart, host of the station's "Every Woman" program. Thanks again, Sharon!
February 13, 2010
UMKC's Professor Kowaluk has Evelyn Case again speak to his class about Byron's case, this time with copies of J. Bennett Allen's The Skeptical Juror in hand for the students.
February 11, 2010
The book The Skeptical Juror and the Trial of Byron Case is available for purchase online from Amazon. At long last, a reasoned and fair assessment of the treatment Byron received in the justice system! See skepticaljuror.com for more information.
November 21, 2009
Evelyn Case is again invited to speak at Professor Gary Kowaluk's Wrongful Convictions class.
October 30, 2009
U.S. District Court judge Gary Kays denies Byron's Certificate of Appealability application. The case is forwarded to the United States Eighth Circuit Court of Appeals for review.
October 26, 2009
Now without the assistance of an attorney to offer legal counsel, Byron files his application for a Certificate of Appealability pro se (on his own).
September 30, 2009
True-crime writer and radio host Burl Barer posts a relatively open-ended piece about Anastasia's murder on his "In Cold Blog" column. He has not read Judge Kays' opinion nor the petition that prompted it, or else his piece might have been more favorable to Byron.
September 29, 2009
Judge Gary Kays issues a ten-page opinion denying Byron's habeas corpus petition. The single silver lining in this instance lies in the judge's response to Byron's third claim (regarding the admission of his pre-arrest silence as substantive evidence of guilt): Petitioner notes that while neither the Supreme Court nor the Eighth Circuit have ruled on this issue, several Circuits have adopted the Petitioner's view. The Court has reviewed this authority, and it would certainly support his position. [...] Petitioner fails to note that there is strong authority for the opposite conclusion in multiple Circuits as well. [...] This is an interesting issue that may be ripe for review by the Supreme Court, but it is not within this Court's authority to grant habeas relief on the basis of this claim.
July 5, 2009
Evelyn Case appears on Georgia Prisonworld Radio to briefly discuss Byron's wrongful conviction.
June 19, 2009
The traverse to the State's Response to the Order to Show Cause is filed. Now the Court must decide whether to grant Byron a writ of habeas corpus on the merits of the two parties' respective arguments.
June 13, 2009
Evelyn Case returns to Sharon Lockhart's "Every Woman" show, on KKFI community radio, to discuss the travesty of her son's case, and her tireless efforts to free him.
May 17, 2009
The Wrongful Convictions class at the University of Missouri, Kansas City, again invites Evelyn Case to speak.
April 16, 2009
Assistant Attorney General Andrew Hassell files the State's rebuttal to Byron's petition, the Response to Order to Show Cause.
March 8, 2009
With substantial content provided by Professor Gary Kowaluk, Byron's petition for a writ of habeas corpus is filed with the United States District Court of the Western District of Missouri, at Kansas City. In it are argued claims of Fifth and Fourteenth Amendment violations, based on the admission into evidence of Byron's so-called "tacit admission," as well as his pre-arrest silence (not the same thing, legally speaking), and the trial court's determination that there was sufficient evidence for reasonable jurors to return a guilty verdict.
July 12, 2008
Evelyn Case speaks about her son's case at Professor Gary Kowaluk's Wrongful Convictions class, at the University of Missouri, Kansas City.
May 21, 2008
The Court of Appeals issues its mandate, finalizing their role in the case. No further state court action can be taken.
April 29, 2008
Motion for rehearing by the Court of Appeals is denied.
April 8, 2008
Byron's wrongful conviction is the first listing of 2008 for the Innocents in Prison Stories on the Victims of Law website.
February 26, 2008
Postconviction relief is denied by the Court of Appeals, in Byron Case v. State of Missouri.
December 30, 2007
A PDF flier for this site can now be printed and posted in a public space, to spread word of Byron's wrongful imprisonment.
November 19, 2007
FOUND Magazine / PostSecret show held at Screenland in Kansas City, Missouri. A collection is taken up by the FOUND crew, for Byron's legal fund. To everyone who gave, and especially to Davy, we send our deepest gratitude.
November 10, 2007
Evelyn Case again speaks by invitation at Professor Gary Kowaluk's UMKC Wrongful Convictions class.
September 2007
FOUND Magazine #5 features this ad for freebyroncase.com. Thanks to Davy Rothbart and all of Byron's supporters at FOUND for this generous donation!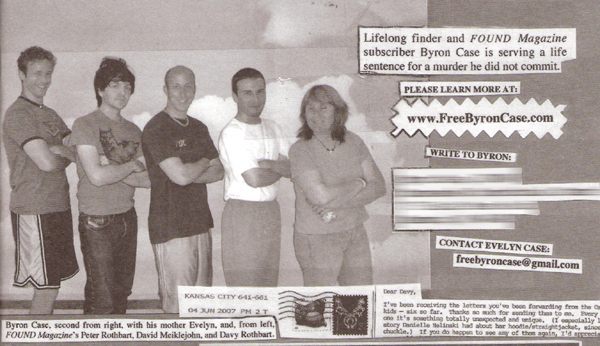 August 22, 2007
Evelyn Case and Michael Myers, a friend of Byron's, are featured on Michael Badnarik's call-in radio program, "Lighting the Fires of Liberty," on Austin, Texas, radio station WTPRN to discuss Byron's case.
August 19, 2007
At the invitation of KKFI's Gabbi Otto, Evelyn Case appears on the talk segment of Sunset Reggae, to discuss the injustice Byron is suffering.
August 18, 2007
Byron's new blog, "The Pariah's Syntax," replaces the MySpace page he had before this spring's Pitch group blog uproar led to a damaging hack. You can still read Byron's original MySpace blog posts on the new platform, alongside the personal thoughts and firsthand accounts of prison life he's sure to give us in the future. There are also links to Byron's ever-increasing published writings, and to his Amazon wish list (yes, we can now order books as gifts for him).
May 21, 2007
A post appears on the Pitch group blog that is highly critical of Byron and his MySpace profile. Readers respond overwhelmingly in Byron's defense. The comment feature is eventually disabled by the editors, and Byron writes a response on his blog.
April 15, 2007
Evelyn Case speaks by invitation at Professor Gary Kowaluk's University of Missouri, Kansas City, Wrongful Convictions class.
July 29, 2006
Evelyn Case enters the KKFI studio to tell Susan Lockhart's "Every Woman" listeners about her work to free her son from his wrongful conviction.
June 9, 2006
Davy Rothbart of FOUND Magazine dedicates the Kansas City FOUND show at the Record Bar to Byron.
April 5, 2006
Notice of appeal filed with the Missouri Court of Appeals.
March 1, 2006
Jackson County Circuit Court judge Charles Atwell, who presided over Byron's trial, denies the Motion to Vacate, Set Aside, or Correct the Judgment of Sentence (a.k.a.the Rule 29.15 filing).
October 7, 2005
Byron is present for an evidentiary hearing in the same courtroom of the Jackson County Circuit Court where the trial took place. The main points argued by Byron's lawyer involve the violation of Byron's Fifth Amendment rights when the June 5, 2001, phone conversation between him and Kelly was admitted into evidence (since authorities used Kelly Moffett to get around his previously invoked right to an attorney).
April 29 - May 22, 2005
In conjunction with their production of "The Exonerated," Kansas City's Unicorn Theatre presents a month-long exhibit of Byron's photography: "Afterimages." Thakns to Web, of The Frame Gallery, for matting and framing the pieces, and to theater manager Cynthia Levin, for opening the Unicorn's lobby to Byron's images. Last, but by no means least, congratulations to the fine case, for a brilliant series of performances. Everyone's warmth is very much appreciated.
April 5 2005
Motion to Vacate, Set Aside, or Correct the Judgment or Sentence (under Missouri Court Rule 29.15) is filed by Byron's court-appointed lawyer.
August 25, 2004
The Missouri Court of Appeals issues its mandate, officially ending the Direct Appeal effort.
August 24, 2004
Byron's application for transfer to the Missouri Supreme Court is denied by the Appeals Court.
June 1, 2004
The Missouri Court of Appeals denies Byron's Motion to Rehear.
April 13, 2004
The Missouri Court of Appeals issues its denial of Byron's Direct Appeal, in State of Missouri, Respondent v. Byron Case, Appellant.
September 17, 2003
Oral arguments are held in the Missouri Court of Appeals, Western District. Byron is not present but is represented by the public defender assigned for his appellate effort, Sarah Weber Patel.
July 10, 2013
The appellant's (Byron's) reply brief is filed, refuting Ms. Spillars's arguments against his Direct Appeal brief.
June 30, 2013
The attorney for Missouri, Andrea K. Spillars, submits the state's brief.
May 7, 2013
Stating that Judge Charles Atwell erred in his various rulings at trial, Byron's latest public defender, Sarah Weber Patel, submits his Direct Appeal brief to the Missouri Court of Appeals.
October 11 - 14, 2002
Evelyn Case travels to Toronto, Canada, to attend an event for the Association in Defense of the Wrongly Convicted (now called Innocence Canada) and meet Rubin "Hurricane" Carter, whose years of wrongful imprisonment inspired the powerful Denzel Washington film The Hurricane. The outpouring of support, and the personal connections made, boost everyone's spirits for our uphill journey towards justice for Byron.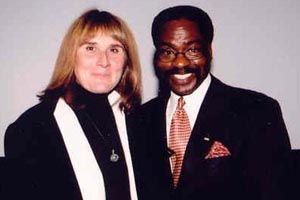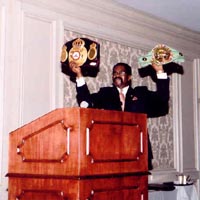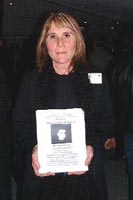 July 3, 2002
Notice of Appeal is the first step in the potentially long process of overturning a conviction in Missouri. /as of today, Byron's has been filed.
June 28, 2002
At today's hearing, Byron receives the sentences we knew he would - life without the possibility of parole, plus life, to be served concurrently - but knowing hasn't prepared us for the emotional blow of watching our beloved friend, nephew, godson, and son, Byron Case, led away in handcuffs, shackles, and chains beyond any consoling touch or word we might otherwise give him.
May 2, 2002
The lawyers rest their cases and the jurors go to deliberate. It takes only three and a half hours' wait for Byron to be found guilty of first-degree murder and armed criminal action. His family and friends are shocked beyond words, to see how horrrifyingly our system of so-called justice can go wrong.
Visiting Byron in the Jackson County Detention Center, afterwards, we are sickened to think what the near future may hold, for us and for him, but with truth on our side we can be sure this travesty will eventually be undone.
Free Byron Case!
May 2, 2002
Fourth and last day of trial. Byron is found guilty of first-degree murder and armed criminal action.
May 1, 2002
Third day of trial.
April 30, 2002
Second day of trial.
April 29, 2002
First day of trial.
April 26, 2002
Voir dire (jury selection) held.
April 25, 2002
Second pretrial hearing is held. Judge Charles Atwell rules on what evidence will be permitted during trial.
April 19, 2002
Pretrial hearing is held to discuss evidence and each party's approximate plan for trial.
July 19, 2001
An arraignment is held, in which Byron is told what the charges against him entail.
June 20, 2001
Byron is indicted on charges of first-degree murder and armed criminal action, for the October 23, 1997, death of Anastasia WitbolsFeugen. In the state of Missouri, first-degree murder carries a sentence of life without parole, or the death penalty.
June 11, 2001
Teams of law-enforcement officers in tactical gear arrest Byron at his mother's house. After a questioning at Jackson County Sheriff's Department headquarters, he is taken to the county jail in downtown Kansas City. His first phone call goes to Evelyn Case: "Mum, they think I murdered Anastasia!"